Ernest A. Cudjoe, MD, FACS, FASMBS

Ernest Cudjoe, MD, FACS, FASMBS is a graduate of East Carolina University School of Medicine in Greenville, North Carolina. He completed his residency in general surgery at Morristown Memorial University Hospital in Morristown, New Jersey, as the Chief Surgical Resident. He was awarded the Society of Laparoendoscopic Surgeons Resident Achievement Award and the US Surgical Laparoscopic Resident Award. He completed his fellowship in laparoscopic surgery at North Shore Long Island Jewish University Hospital in Manhasset, NY.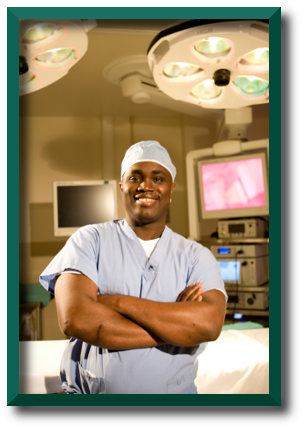 Philosophy of Care
"As a surgeon, I think it's great when patients can have less pain, faster recovery, and less chance of complications from their procedure" said Dr. Cudjoe.
Dr. Cudjoe is a member of Great Lakes Surgical Associates.  Their mission is to provide patients with state-of-the-art surgical care in a comfortable, compassionate environment. The surgeons of GLSA specialize in minimally invasive solutions to common surgical problems.
Dr. Cudjoe is originally from Ghana, Africa.  In his spare time, he enjoys playing golf and spending time with his wife and three children.
Special Interests and Procedures
Dr. Cudjoe's special interests include bariatric surgery (laparoscopic gastric banding/Roux-en-Y gastric bypass/sleeve gastrectomy), colonoscopy,  capsule endoscopy, Nissen fundoplication, laser varicose vein treatment, gastrointestinal surgery, thyroidectomy, ultrasound guided breast biopsy, breast surgery, video-assisted thoracoscopic surgery, Botox, and laparoscopic ventral hernia.
Memberships:
Fellow – American College of Surgeons
American Society for Bariatric Surgery
Society for American Gastrointestinal and Endoscopic Surgeons
American Medical Association
Michigan State Medical Society