BOTOX Cosmetic® – Offered at Great Lakes Surgical Associates
Our skin ages over time, and the effects of the aging process become evident on our faces, especially in areas of significant facial expression; forehead (worry lines), between the eyebrows, beside the eyes (crow's feet). BOTOX is the most successful, best and affordable treatment option available.
Have you ever wondered where the lines that furrow your brow come from? Is it simply getting older? Exposure to the sun? Is it caused by stress? In general, the aging process and how skin ages is a very complex process. Skin goes through cellular changes, collagen depletion, hormone loss, damage caused by the elements and free radicals, and more. Ultimately, the aging of our skin is caused by many varying factors.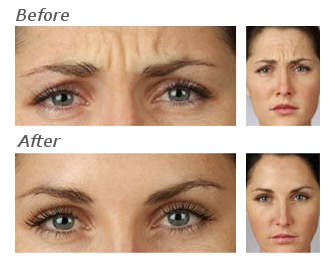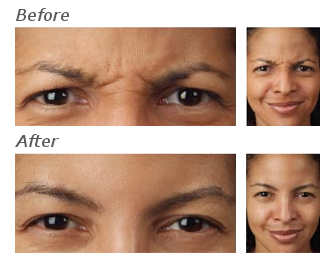 The lines that appear on your brow are called glabellar lines actually result from muscle movement and the passage of time. After years of crinkling and wrinkling, these glabellar lines start to become more pronounced, exaggerated and more permanent. Fortunately, there is a way to temporarily reduce moderate to severe glabellar lines, or "Forehead" wrinkles. Treatment with Botox Cosmetic can visibly smooth and soften these lines between your brows. An improvement can be seen within days, and can last up to 4 months, although results vary. In clinical trials, 90% of men and women asked, rated their improvement in the appearance of frown lines between their brows as moderate to better 1 month after treatment.

BOTOX Cosmetic® is a simple, non-surgical treatment administered by a physician in our office, as an out-patient procedure. The procedure is virtually painless and the patient will have no downtime. Botox can temporarily smooth moderate to severe frown lines between the brows in people 18 to 65 years of age. Botox Cosmetic is the only treatment of its type approved by the Food and Drug administration (FDA). Just one 10-minute treatment with a GLSA surgeon, which consists of only a few tiny injections, can produce noticeable improvement within just days. BOTOX Cosmetic® is a purified protein produced by the Clostridium botulinum bacterium, which reduces the activity of the muscles that cause those frown-lines between the brows to form over time.
So, what are you waiting for? It's all about the Freedom of Expression! Call GLSA today to set up an appointment, or to learn more about what Botox can do for you.
Botox frequently asked questions.
Important Safety Information
Serious heart problems and serious allergic reactions have been reported rarely. If you think you are having difficulty swallowing, speaking or breathing, call your doctor immediately. The most common side effects following injection include temporary eyelid droop and nausea. Localized pain, infections, inflammation, tenderness, swelling, redness and/or bleeding/bruising may be associated with the injection. Patients with certain neuromuscular disorders such as ALS, myasthenia gravis, or Lambert-Eaton syndrome may be at increased risk of serious side effects.