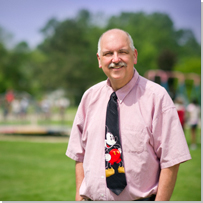 Elementary School Principal and Bariatric Surgery Patient
St. Louis, Michigan
"I feel great after having bariatric surgery and every day gets better."
A New Outlook on Life: Carl Sztuczko's Story
For 1,000th Bariatric Patient, 'Every Day Gets Better'
When Carl Sztuczko of St. Louis had Roux-en-y gastric bypass surgery in November 2010, he didn't know he was helping MidMichigan Medical Center – Gratiot mark a milestone. Carl was the 1,000th patient to undergo bariatric surgery since the Medical Center began performing the procedures in 2003.
Before surgery, 48-year-old Carl suffered from high blood pressure and type 2 diabetes. "My health was not going the way I wanted," Carl said. "I needed to do something if I wanted to be able to walk my daughter down the aisle someday."
Carl's family doctor, C. Jeffrey Holmes, M.D., helped him explore the possibility of bariatric surgery. "I saw Dr. Holmes in August and after discussing the options with him, I attended one of the informational seminars to start the process."
Ernest Cudjoe, M.D., performed Carl's laparoscopic surgery. "I was not the ideal patient that night," Carl laughed. "But the staff at MidMichigan Medical Center – Gratiot was fantastic and helped me control the pain. In fact, after that night, I didn't require any pain medication. I can't say enough good things about the nurses at the hospital," Carl added. "They are wonderful, friendly and supportive."
Doctors See Bariatric Surgery As Process that Leads to Better Health
Bariatric Surgery at MidMichigan Medical Center – Gratiot is much more than just the surgery. It is a process that the patient commits to for life. Since making that commitment, Carl has lost 90 pounds. "The immediate benefit was more energy which certainly makes it easier to keep up with the lively students at the school where I work as a principal," he said.
"My health has definitely improved; My blood pressure is significantly lower since I had the surgery, and I'm hoping I'll soon be off medication.  My blood sugar has also been easier to manage."
Carl said adjusting to a new lifestyle was not as difficult as he thought it might be. "My post-surgery diet was planned for me, and that made it easier. Also, I am much more conscious of what I am eating — I read labels now." He added that since he and his wife, Peggy, share the responsibility for meal preparation, his healthier habits are being transferred to his family.
"I'm very happy with the results so far," Carl said. His wife is also pleased with the results, although she has to keep shopping for new clothes for him. "I'm down three pant sizes so far," he said.
"We have a great Medical Center here in Gratiot County," Carl said. "Dr. Cudjoe and Dr. Smith are outstanding, and the entire bariatric team is great. They did a very good job preparing me for the process and the surgery so that there were no surprises."
Carl reminds people that the procedure is not a stand-alone event. "People considering bariatric surgery must be prepared to take the process seriously and be willing to commit to a lifelong lifestyle change before surgery," he said.
For Carl, that commitment paid off. "I feel great and every day gets better."