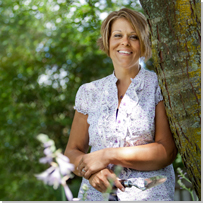 Wife, Mother, Teacher and Bariatric Surgery Patient
Gladwin, Michigan
"Bariatric surgery was the best thing I've ever done for myself. For me, there is no downside – I'm on the mountain and it's great. I'd do it over and over and over."
A New Outlook on Life: Chari Hillier's Story
Everything Changes after Bariatric Surgery
Four years ago, Chari Hillier was a different woman. "I weighed 270 pounds," Chari said. "Every part of my body hurt. I couldn't keep up with work or my kids. I knew I was heavy but I avoided facing it. I wouldn't look in mirrors and I wouldn't get my picture taken."
She got a wake-up call from an unexpected source. "I was on a field trip with my son," Chari said. "We were on a bus and when I went to use the restroom, a little boy told me 'you're not gonna fit.'"  That innocent comment was a pivotal moment.
"I had been on so many different diets," Chari said. "I walked. I worked out at a gym. I'd lose and gain and lose and gain and I just couldn't do it anymore. I wanted to be healthy and I needed help so I started looking into bariatric surgery."
In fact, Chari spent a couple of years contemplating and researching bariatric surgery. "I knew I wanted to do it, I just needed the nerve to go ahead with it," she said. "I chose adjustable gastric banding because it is reversible and seemed less drastic."
Chari went to see Bariatric Surgeon Ernest Cudjoe, M.D. Like all bariatric patients, she needed to have psychiatric, cardiac and physical evaluations before being approved for surgery.
A few months later, in July of 2007, Chari was ready for surgery at MidMichigan Medical Center–Gratiot. "I was prepped, in the operating room, and ready to go under," she said. A wave of anxiety interrupted the process. "I hopped off the table, grabbed my gown, took my IV off the pole and said 'I can't do this.' I laugh about it now, but the minute I left the hospital, I regretted what I'd done."
Dr. Cudjoe reassured Chari that he would do the surgery when the time was right. "He just said 'Today's not your day,'" she said. "Dr. Cudjoe is wonderful. He is kind, caring and compassionate. He talked to me about my fears and helped me work through them."
Three weeks later, Chari did try again and Dr. Cudjoe preformed the surgery. "I was a little sore and took three days off work, but I've had three c-sections — bariatric surgery was nothing," she laughed. "I truly believe that the faster you get up and get moving, the faster you recover. I actually felt better after a day at work."
The psychological recovery was slower. "I definitely had to make changes and it took time to adjust," she said. "Some people think that bariatric surgery is an easy way out, but surgery is never an easy choice. The band is only a tool; I control my success."
Getting rid of old habits, and being disciplined with new behaviors, are the root of Chari's success. She no longer eats fast food and she limits her carbohydrates. "I eat healthy now," she said. "I eat lots of vegetables, homemade soup, and I use a slow cooker a lot. I eat slowly and I never eat after dinner. Instead, I walk or catch up on things around the house. I'm almost rigid about making sure I exercise every day."
In addition to her job as a paraprofessional for special needs children at an elementary school, Chari also works at an after-school activity program called Sparks. "Now I can run and keep up with the kids. I wouldn't have even applied for that job before," she said.
Four years after surgery, Chari is still a trim 143 pounds and feels great. She and her husband, Scott, enjoy camping and fishing together. "We love to go kayaking and we have a John Deere Gator and go for rides almost every night," she said.
"Everything changes. When you feel better, and like the way you look, your outlook changes," she said.
"Bariatric surgery was the best thing I've ever done for myself. For me, there is no downside – I'm on the mountain and it's great. I'd do it over and over and over."