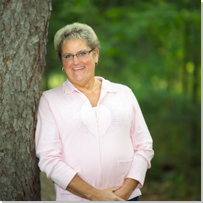 Wife, Mother, Grandmother and Bariatric Surgery Patient
Midland, Michigan
"I'd tell anyone considering bariatric surgery to just go for it – it could be the best thing you'll ever do."
Bariatric Surgery More Exciting than Christmas!
Debbie Sian had known about bariatric surgery for years however the thought of traditional, open surgery did not appeal to her. "I knew it wasn't for me," she said. "Then a girlfriend of mine had bariatric surgery in July. I was with her every step of the way and when I saw that she had just a few little holes instead of a big incision, I thought to myself 'I can do that!'"
Debbie spent a few months contemplating her options. At 310 pounds, and suffering with very high blood pressure, she wanted to get her health and weight under control. "My mother has diabetes, and both my parents have had open heart surgery," she said. "I didn't want that so I started seriously thinking about bariatric surgery. In October, I finally talked to my mom about it, then I talked to my husband. I went to a seminar on December 1, saw the doctor on December 15 and started the pre-work."
Like all prospective bariatric patients, Debbie had to meet with a team of health professionals, and had to attend educational sessions, to ensure she was physically and emotionally ready for the procedure and the lifestyle changes that would result. She also received fitness and nutrition counseling and met with other bariatric surgery patients through a support group.
"They had me very mentally prepared before surgery so there are no surprises," Debbie said. "In the classes, we were taught what to do, how to cook and how to eat. It's phenomenal how well they prepared me. I can't think of anything else they could have done."
As the date of her surgery approached, instead of feeling nervous, Debbie was giddy with excitement. "I felt like a kid at Christmas!" she laughed.
On January 25, Debbie underwent a sleeve gastrectomy. During this procedure the stomach is divided into two sections and one section is permanently removed. The remaining portion of the stomach is long and narrow, resembling the shape of a sleeve. A sleeve gastrectomy procedure maintains the basic function of the stomach however the volume of food the stomach can handle is significantly reduced so patients feel full quickly and eat less. On average, patients lose about half of their excess body weight in 12 months. Bariatric surgeons Jeffrey L. Bonacci, M.D., and Ernest Cudjoe, M.D., performed the procedure laparoscopically so only very small incisions were necessary.
"My surgery started at 7 a.m. and by 11:30, I was back in my room and in my own clothes," Debbie said. "By 2:30 that afternoon I even walked across the hospital to see my father-in-law who had unexpectedly been admitted. I went home the next morning." She said pain was never an issue. "I was a little sore but I didn't need to take any medication for it." The rest of her recovery was equally easy-going.
"It's been a success for me from the day I went to the seminar," Debbie said. "I lost 82 lbs in the first 12 weeks and I feel wonderful. At five foot eight, I started out wearing a size 26 and now I'm down to a 14."
Debbie said more than her dress size has changed. "Everything changes," she said. "I had very high blood pressure and two weeks after surgery they took me off blood pressure meds completely. I can hear better, my eyesight improved, even my feet got smaller."
"It's not all about weight, either," Debbie added. "In the classes they taught us about NSVs – non-scale victories. By the time I lost 82 pounds, I'd achieved 820 NSVs. I didn't realize how different life would be. Now I can do things I thought I could never do again. I can buy clothes in any store. I don't mind having my picture taken. And I like not being the biggest person in the room anymore."
Debbie said she has been blessed with a supportive, loving family. "I have lots of support around me – my husband, my parents, brothers, children and in-laws. They're just all great people." She and her husband, Albert, have seven of their 10 children still at home and people often ask if it's difficult cooking for so many people. "Not at all," she said. "I eat what they eat, I just have smaller portions. I'm trying to teach them to eat healthier, too. For instance we have spinach instead of lettuce. And when we go out, I order a grilled chicken club without the bun."
Debbie is totally committed to continuing her success. She exercises daily, takes her vitamins, eats slowly, avoids fats and sugars, and makes sure she gets enough protein. "I definitely changed my lifestyle and eating habits but the rewards are worth it. Skinny feels better than anything tastes," she said. "I stick to the regimen because I want it to work. I have had no trouble whatsoever and I feel great."
Her success has inspired her friends as well. "I walked through the process with a friend of mine in March and I have another friend considering it," Debbie said. "I'm so happy with it; I can't say enough good things about it. I feel so much better and have so much more self-esteem. I'd tell anyone considering bariatric surgery to just go for it – it could be the best thing you'll ever do."
**Debbie is now 28 weeks past the surgery and has lost 141 pounds!