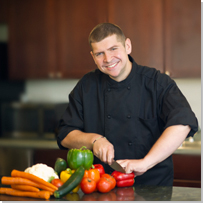 Professional Cook and Bariatric Surgery Patient
Alma, Michigan
"I felt that if I didn't do something about my weight, I was going to die, and die young. I didn't want to just give up. Bariatric surgery helped me fight my battle."
Gaining a Passion for the Future
Josh Doyle of Alma is turning his passion for food into a passion for the future after losing more than 200 pounds. With help from bariatric surgery, he's now beginning to enjoy the better life that he strongly desires and is working to achieve.
Josh grew up fighting a hard battle with overweight. He remembers being "big" at age 4 and continued to put on pounds through the years.
Despite being naturally friendly and outgoing, he was limited socially in high school by his weight and coped with rejection by eating. College was a big turning point, but majoring in culinary arts brought its own challenges.
"Going to Grand Rapids Community College was one of the greatest experiences of my life. I made wonderful, lasting friendships and had a great education," he said, "but the labs in my junior and senior years meant focusing on food almost around-the-clock. We were making – and tasting – breads, pies and cakes; stocks and sauces; seafood; and deep-fried products. The idea of tasting something and spitting it out never occurred to me."
Josh tried to get his weight under control with workouts, diet regimens and all kinds of diet pills, but nothing lasted. He developed sleep apnea and worried about high blood pressure, diabetes and other conditions linked to obesity, as well as a family health history that raised his risk.
"I never in my life thought I would weigh 400 pounds," he said. "Last year, at age 26, I felt that if I didn't do something about my weight, I was going to die, and die young. I'd heard that, even if health problems are in your family, you could reverse some of them with a better lifestyle. I didn't want to just give up. Bariatric surgery helped me fight my battle."
An informational seminar in 2011 had led Josh to consider bariatric surgery, and now the time was right. After consulting Jeffrey F. Smith, M.D., a board-certified general surgeon who specializes in bariatric procedures, Josh decided on sleeve gastrectomy. This procedure maintains the basic function of the stomach, but reduces the volume it can handle, so people feel full quickly and eat less.
Family and friends provided lots of support and encouragement as Josh started the pre-surgery diet regimen and then had the procedure in early October at MidMichigan Medical Center–Gratiot. He stayed in the hospital for two nights post-surgery and had no issues or complications.
Eating a new way was a challenge, but Josh stayed focused and, in less than a year, dropped from 429 to 217 pounds.
"I began to find new ways of eating, discovering that food can still have flavor and taste good," he said. Soon he was working out three times a week and riding his bicycle again. "Now I have a goal to ride the 41-mile Fred Meijer Heartland Trail all the way from Alma to Greenville."
While Josh affirms that bariatric surgery is a tool, not a quick fix, he's thrilled with his progress and the changes it has brought to his life. "It feels good to go out with my friends. I always wanted to go to a club and dance but didn't want to go alone. Since I've lost weight, I can go out and I don't feel like I'm getting stared at," he said. Buying clothes in regular sizes feels good, too. "No more going to the big and tall store. Now I'm buying off the rack!"
Josh said that in 10 years he hopes to be married and have kids of his own, but for now he has been thinking about how to help others, especially young people, who are fighting obesity.
"There's an epidemic of this problem in our area, and I'd like to see the culinary community help by putting more emphasis on fresh and healthy ingredients and healthier options for cooking. Helping someone get to a manageable weight can improve their health and give them a better quality of life. I'm living proof."