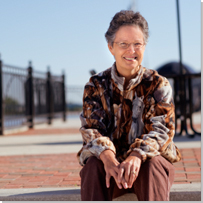 Consumer's Energy Retiree and Bariatric Surgery Patient
Bay City, Michigan
"The people at MidMichigan Medical Center – Gratiot made it easier for me. They gave me the tools and gave me a plan. I followed the plan faithfully and I have had good results. I feel great and I've reduced my risk of heart disease and diabetes."
A New Outlook on Life: Deb Braley's Story
Walking Her Way to Better Health
"I've struggled with weight my entire adult life. I just couldn't keep it off," said Deb Braley of Bay City. "I tried everything. I once dropped down to 150 pounds, but I gained it back."
Because of health concerns, Deb knew she had to keep trying.
"I had very high blood pressure and was taking two different medications – in fact I was taking the maximum dose," she said. "Plus, heart trouble and diabetes run in my family."
Deb was hesitant about bariatric surgery until she learned about the adjustable gastric banding procedure at MidMichigan Medical Center – Gratiot.
Adjustable gastric banding surgery is performed using a laparoscope, a less-invasive approach than traditional open surgery. During the surgery, an adjustable silicone band is placed around the upper part of the stomach, creating a smaller pouch which subsequently feels full more quickly. By limiting the amount of food that can be eaten, the patient's weight decreases until a stable weight can be maintained.
Deb chose Jeffery F. Smith, M.D., a board-certified general surgeon who specializes in bariatric surgery, to perform the surgery on her.
"Dr. Smith is very nice and very easy to talk to," she said. "I didn't have a bit of trouble with the surgery and I only had to stay in the hospital for one night. Everyone at the Medical Center is just great and treated me with respect."
In Deb's case, recovery time was fairly short. Eleven days after surgery, she took her pair of Boston Terriers for a short walk.
"I was told that exercise is very important to recovery and weight loss," she said.
Continuing to exercise helped Deb shed 130 pounds in the year following her surgery. She now walks two and a half to five miles every day.
"Walking a dog is great exercise," she offered. "If you need to, borrow a dog and walk it!"
Deb feels that support from the people close to her was vital.
"They told us in the pre-meetings that this is not something you do alone – you need your family behind you," she said.  "My family is 100 percent behind me, especially at family gatherings, and my husband is the best. He sticks by me and looks out for me. When we go out, he makes sure we go where they serve foods I can eat."
Even her neighbors are part of her support system.
"We live in a senior complex and have an exercise group that meets twice a week," Deb said. "A nurse comes in periodically and she monitors my blood pressure."
Deb knew the surgery meant a permanent change to her lifestyle.
"Once you have the band, your eating habits have to change," she said. "I had to give up a few things, but it hasn't been that hard. I personally had no problem changing how I eat."
Her commitment to changing her lifestyle has paid off.
"I feel so much better," Deb said. "I can run up and down stairs without being winded or short of breath.  I'm off my blood pressure meds, and I now wear a size 10!"
"It was a life-changing operation," Deb said. "The people at MidMichigan Medical Center – Gratiot made it easier for me. They gave me the tools and gave me a plan. I followed the plan faithfully and I have had good results. I feel great and I've reduced my risk of heart disease and diabetes."