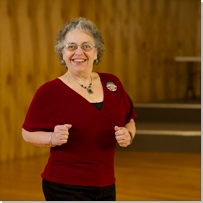 Township Treasurer, United Way Employee, Community Volunteer and Bariatric Surgery Patient
Gladwin, Michigan
"Since bariatric surgery, I'm living life in a way I haven't lived in many years."
A New Outlook on Life: Elizabeth Looker's Story
Making an Active Lifestyle Easier and Healthier
Liz Looker is a busy woman with a very full schedule. She is currently the Buckeye Township Treasurer, the office administrator for United Way of Gladwin County and is very involved in her community.
"I was always very active," Liz said. "I had a full-time job and was also involved in many community organizations – Gladwin Area Friends of the Theatre, Church Finance Council, Community Christian Choir, United Way Board of Directors, I wasn't one to stay home."
However, at 310 pounds, being active wasn't easy.
"I started to have problems I had never encountered before," Liz said. "It was difficult going up the three steps into our house at the end of a long day and I couldn't dance without being out of breath."
Liz's health was suffering. She was taking medication for high blood pressure and triglycerides, and taking three medications – and two shots each day – to control diabetes.
"The diabetes meds were creating a vicious cycle, causing me to gain more weight and creating new medical problems," she said. "I also had sleep apnea. My husband wasn't sleeping well because he was always waiting for me to start breathing again."
She hit rock bottom when simple tasks and personal care became difficult and embarrassing.
"My loving husband even had to buckle my sandals for me," Liz said.
Her wake-up call came in the form of a Web site that calculates life expectancy based on personal health markers.
"Mine was age 65," said the 57-year old Liz. "I knew I had to do something drastic, otherwise, I wouldn't live much longer."
Fortunately, Liz had an internist who encouraged her to think about bariatric surgery.
"I started attending the bariatric seminars sponsored by MidMichigan Medical Center – Gratiot to learn all I could, so I could make an informed decision." she said.
Liz also starting putting in place her support system. Her husband, mother and her three children all attended a seminar with her so they would know what was involved in the process and be able to help her. She attended the bariatric support group in Alma and had sessions with a bariatric therapist.
Ernest Cudjoe, M.D., performed Roux-en-Y gastric bypass surgery on Liz on September 16, 2008.
Sadly, a series of personal and family tragedies followed her surgery. Liz lost a brother-in-law, her full-time job of 21 years, and her mother-in-law in rapid succession. While Liz was grateful for her support system, she questioned whether she had made the right choice.
"It has not been easy for me," Liz said. "My therapist was very instrumental in helping me to cope with all these things and still continue on the straight bariatric path," Liz said.
"The Bariatric Bridges program was another helpful tool. It helped me look at some of the behavior and lifestyle habits that put me where I was before my surgery—and helped me learn how to avoid returning to those damaging habits. Dr. Cudjoe explains that the surgery is only a tool; we must learn new behaviors if we are to be successful in keeping our weight off."
A year and a half after surgery, Liz is 146 pounds lighter, as active as ever, and loving it.
"I'm line dancing every week, I work out at the gym three times a week and, instead of driving, I walk around town to do errands," she said. "I get down on the floor to change my grandbabies' diapers and I sit on the floor to play with them. Before surgery, I never could have gotten back up without help!"
Liz's two-year-old granddaughter helps her put her weight loss in perspective.
"I was carrying around the equivalent of five granddaughters every minute of every day," she said. "No wonder I didn't feel good."
When Liz and her husband attended the Valentine's Ball, she wore a dress borrowed from her daughter.
"I used to wear a size 26; now even a size 14 is a little big. I haven't worn clothes this size in almost 40 years!" she laughed.
The best benefit for Liz is the improvement in her health. She has taken no medications for her diabetes since the day of her surgery, no longer needs medicine for blood pressure or triglycerides, her sleep apnea is a thing of the past, and she's looking forward to many, many more years of good health.
"Now I'm living life in a way I haven't lived in many years," Liz said. "Thank you Dr. Cudjoe – you gave me my life back!"